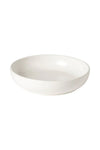 Pacifica Soup/Pasta Bowl
Shipping calculated at checkout.
Introducing the Pacifica Soup/Pasta Bowl, a stunning addition to your tableware collection that effortlessly combines everyday practicality with the charm of weekend casual gatherings.
Exquisite Matte Finish: The Pacifica Soup/Pasta Bowl boasts a captivating matte finish that elevates your dining experience. Whether it's a comforting bowl of soup on a weekday evening or a delectable pasta dish for a weekend gathering, this bowl adds an elegant touch to every meal.
Unmatched Versatility: Designed to cater to the demands of modern living, this bowl is incredibly versatile. It seamlessly transitions from the freezer to the oven, and from the microwave to the dishwasher, making it an ideal choice for today's busy lifestyles.
Crafted in Portugal: The Pacifica collection is a testament to fine stoneware craftsmanship. This bowl is proudly made in Portugal, a region renowned for its rich tradition of pottery artistry. Every bite from this bowl is a nod to centuries of expertise.
Product Details:
Material: Fine Stoneware
Origin: Portugal
Dimensions: 8.75''D x 2''H | 33 oz.
Order with Confidence: At Kootenai Moon, we're thrilled to offer the Pacifica dishware by Casafina. While some styles, colors, and quantities may not be readily available in-store, we're delighted to order them for you at the time of purchase. Please note that a lead time of 6-8 weeks may apply, depending on the supplier's stock. Your patience will be rewarded with the exceptional quality of fine stoneware craftsmanship.